Marine Satellite Systems offer products and services from the major VSAT & TV antenna manufacturers and Service Providers to offer and support end to end solutions.
One of the most important factors in a VSAT installation is the installation itself. Marine Satellite Systems only uses the highest standard Coaxial or Fiber cable, each one tested and certified as part of the commissioning phase. During a refit, we will only use existing cables if they can be tested and certified for the intended service.
The below products can be installed separately, or by coupling dual antennas through fully automated arbitration switches, giving you seamless operation and continuous connection. All antennas are compatible with ABS, Automatic Beam Switching, which will automatically make the VSAT antenna(s) target the best satellite options for your cruising area.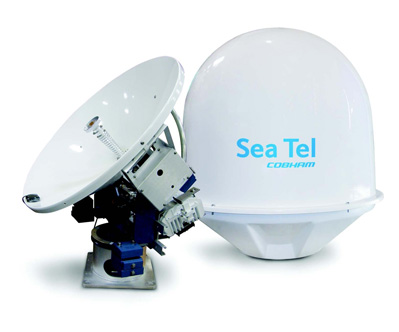 Under the SAILOR and Sea Tel brands, COBHAM SATCOM offers the most diverse range of high-performance, reliable and feature-rich Ku-Band VSAT antenna systems available today.
SAILOR and Sea Tel Ku-Band Marine VSAT systems feature high-performance 3-axis stabilized antennas for reliable, high bandwidth connectivity and flexible installation. They are designed to out-perform competing antennas and promise easier and quicker installation and configuration on a wider range of vessels.
INTELLIAN offers a complete range of Ku & Ka band VSAT systems, from 60cm to 2.4m
Intellian v-Series antennas are 3-axis stabilized maritime satellite communication antenna systems that offer exceptional value and superior RF performance. These exceptional VSAT systems support single and multi-band LNBs (including Intellian's exclusive Global PLL LNB), both cross-pol and co-pol feeds, numerous BUC options as well as a Dual Mediator option for expanded redundancy and fail safe applications.
To offer a complete end to end solutions, Marine Satellite Systems has been a long time partner with some of the leading VSAT Airtime providers to deliver the best quality service available for your cruising area.
OMNIACCESS, one of our global partners, based in Palma de Mallorca, offer one of the most flexible service and 365/7/24 Support. Omniaccess now also provide the PLEXUS TV service where they can host a client satellite receiver for world-wide viewing on the yacht, through the VSAT service.
PRIVA, based in Florida, is our second VSAT partner. PRIVA has a very high quality network and world-wide support organization. Through an extensive network of Service Representatives such as MSS, we can provide world-wide service and support with quick response times.
PRIVA also provides a TV service through their VSAT link that will offer most popular viewing channels.
INMARSAT FLEET BROADBAND
FLEET Broadband is the latest Telephone and Communications platforms from INMARSAT.
With near-world-wide coverage and phone, fax & data capability, it is the main backup solution for communication on a yacht today.
SAILOR Fleet Broadband terminals featuring the Inmarsat Fleet Broadband Multi-Voice Service, where you can add up to nine simultaneous voice lines to a single terminal without affecting crucial on-board communication, whilst the SAILOR 3771 Alarm Panel provides Voice Distress Calling with full priority access in ship-shore and shore-ship communication
INMARSAT GLOBAL XPRESS
Inmarsat's Global Xpress is set to be the first Ka-band high-speed broadband network with global coverage. At launch, the first GX satellite is covering the Indian Ocean Region (IOR) and 2015 will see the launch of the Atlantic Ocean Region (AOR) and Pacific Ocean Region (POR) satellites in 2015.
The satellites operate with a combination of 89 fixed narrow spot beams that enables the delivery of higher data speeds through more compact terminals, plus 6 steerable beams so additional capacity can be directed in real-time to where it's needed.
SAILOR 100 GX or Intellian v100GX enables data connectivity up to 50 Mbps including multiple VoIP voice lines.
IRIDIUM SATELLITE SYSTEMS
Combining global satellite coverage and competitive airtime rates, Iridium allows voice communication and basic data anywhere on the planet.
With its extensive network of cross-linked low-orbiting satellites forming a worldwide coverage grid, Iridium is a reliable satellite network for accessible telecommunications with attractive airtime rates. SAILOR Iridium terminals are 'always-on' giving you peace of mind when sailing foreign waters whilst straightforward basic email exchange, Internet access and SMS messaging with other Iridium phones ensures you are connected wherever you are.
Designed specifically for harsh maritime conditions, SAILOR Iridium terminals have no moving parts and are simple to install – so you can benefit from highly reliable operational and crew calling.